Spinal Tumor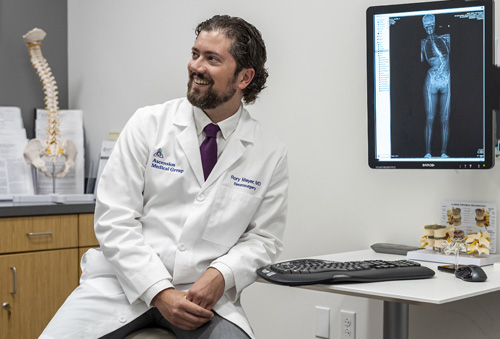 For a person who learns they have a spinal tumor it can be very unsettling. The important thing to remember is that not all tumors are cancerous and some may be benign.
A benign tumor means that it is non-cancerous and will not invade or spread to other tissues. Even so, sometimes benign tumors also need to be removed especially if they appear to be growing or pressing on nearby nerves which could cause back or neck pain symptoms.
Cancerous or "malignant" spinal tumors may be caused by cancer elsewhere in the body that has spread to the spinal cord. When cancer has spread that is termed metastatic cancer.
A spinal tumor can be located in the cervical area (neck), thoracic area (upper back), lumbar area (low back) and sacrum (bottom of the spine).
Spinal tumors can appear for no known reason in both children and adults. While adults have mature skeletal growth, children do not. which doctors must take into account when considering treatment. Other factors to consider are spinal stability, surgical versus nonsurgical interventions and preservation of neurological function.

How to find a spinal tumor specialist
With that said, it is imperative to seek out a neurosurgeon who is fellowship-trained in the removal of a spinal tumor. That's because surgery to remove any type of spinal tumor is complex. A spinal tumor can be woven near or around the spinal cord and nerve roots. Removal is complex surgery that attempts to keep neurological function intact where possible.
Dr. Rory Mayer for example has treated spinal tumor patients for over 10 years. Dr. Mayer completed medical school at Baylor College of Medicine in 2012 and later became Chief Resident there in the Department of Neurosurgery. He completed a fellowship in Complex and Minimally Invasive Spine Surgery at the University of California San Francisco (UCSF) in 2020. Dr. Mayer also completed an enfolded fellowship in neurocritical care and spine trauma while at Baylor College of Medicine. He completed additional sub-specialty training in neurosurgical oncology and spine tumor surgery at the world-renowned MD Anderson Cancer Center in Houston and pediatric spinal deformity at Texas Children's Hospital. He has served as a clinical instructor in the Department of Neurosurgery at UCSF and has been a consul ng neurotrauma surgeon to the National Football League.